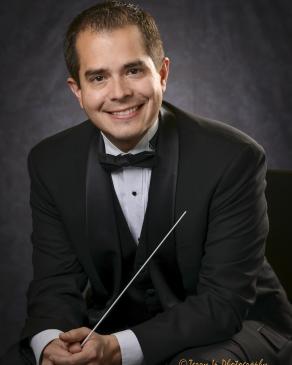 Samuel Ontiveros Branch
Assistant Director
Samuel Ontiveros Branch is an Associate Director of Orchestras at Martin High School in Arlington, TX. Since 2006 he has also served as director of the String Orchestra at the Fort Worth Youth Orchestra.  Prior to his position at Martin he served as the Head Orchestra Director at Gunn Junior High School in Arlington, TX for 13 years.
Mr. Branch is a graduate of Texas Christian University, from which he earned a Bachelor of Music Education Cum Laude and with Departmental Honors. With violin as his primary instrument, he studied conducting under the direction of Dr. Germán Gutiérrez and violin under the direction of Dr. Curt Thompson.
Mr. Branch began his teaching career in 2001, and his groups consistently receive Sweepstakes ratings at UIL music contests and superior ratings at spring festivals. Three times at different festivals his groups have earned Best in Class and Grand Champion awards.
Mr. Branch is an active member of the Texas Music Educators Association, Texas Orchestra Directors Association, and Mu Phi Epsilon. He is also on staff at The University of Texas at Arlington Summer Strings Camp and the Sam Houston State University Orchestra Summer Camp.
Fluent in Spanish, Mr. Branch was born in Mexico City, Mexico and immigrated to the United States at the age of five and began studying violin at the age of 10. When not conducting or teaching, Mr. Branch enjoys golf, road biking, and spending time with his family.