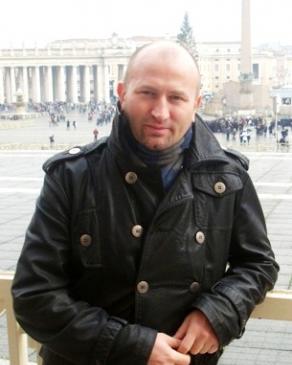 Milen P Panayotov
Ensemble Director
Born in Burgas, Bulgaria in 1973, Milen P. Panayotov studied trumpet at the Primary and Secondary School of Music in his hometown. Upon finishing his degree in 1992 he went to Sofia where he studied conducting and composition with Miroslav Popsavov & Dimitar Tapkov at the State Music Academy of Sofia, Bulgaria. He also did a course in choral conducting with Georg Grün at Mannheim, Germany, in 2002. In July 2005, he finished the Masters in Cultural Management, specialization: Cultural Industries and Business at the University of Barcelona.
Currently assumes the leadership of the Orfeó Atlàntida. He is also director of the choir "Millennium" (Barcelona), associate director of the choir "Dyapasón" (Barcelona) and director of the "Folk Music Association of Montjuïc" (Barcelona). It is also an active member of the Union of Bulgarian Composers. He has been guest conductor of the Youth Orchestra of Baix Llobregat and director of several choirs, both amateur and semi-professionals (Young chamber choir "St. Joseph", Sofia, Bulgaria; Chamber Choir for young people "Hash", Sofia, Bulgaria; Cor "St. Cristòfol", Barcelona).
He has worked in several music festivals of international renown as a pianist-repertorist (the two editions of the International Course of Singing organized by the "Camerata Sant Cugat," the concert of the "Millennium of Sant Cugat" Festival, or the "Setmana Cantat", Tarragona). As for awards, has won the "Best performance of Polish music" and a reasoned award at Competition "N. Stefanov", Sofia, Bulgaria, 1995, Piano Duet category and the third place at State Championships Musical "Young instrumentalists", focused on the Bulgarian music, Burgas, Bulgaria, 1987, Otto category.
He has written a symphony, a piano sonata, an "Adagio" for string orchestra, a "Rondo" for trumpet and piano, a "Sonatina" for piano solo, a series of three songs "My Sea" for tenor and piano and various choral songs.