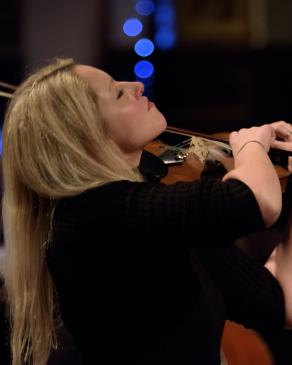 Harriet Mackenzie
Soloist
Harriet Mackenzie is an internationally renowned concerto soloist and has performed across five continents. Her recordings include concertos with the Royal Philharmonic Orchestra, Orchestra Nova and the English Symphony Orchestra and these have received international acclaim, including five stars in The Times (Richard Morrison) and have also frequently appeared in the 'Top Recordings of The Year' lists. These include a nomination for 'Recording of The Year' in Music Web International:
"There is a completeness, a confidence, an honesty and a consistent lyrical beauty that has moved me again and again. These qualities all emerge in Harriet Mackenzie's utterly magisterial performance….Performances and recording are first-class throughout. Harriet Mackenzie's commitment to these composers and these works is obvious, her performances are riveting."
Richard Hanlon, 2017,'Editor's Choice' in Gramophone Magazine, cited for Harriet's "superbly responsive playing … faultless technique and unfailing insight".
The Wall of Water violin concerto by Deborah Pritchard, with the ESO was chosen by Guy Rickards as one of his top three recordings of 2015 in Gramophone Magazine and her recording of Christopher Gunning's concerto with the the RPO was chosen by Norman Lebrecht as one of his top recordings of 2016. She has recorded as a soloist and chamber musician on the NMC, Discovery, Naxos, Nimbus and Dutton labels. Live broadcasts include BBC Radio 3, Classic FM and Hungarian National Radio.
As well as performing all the standard repertoire, Harriet is an ambassador for contemporary music and is aware that she is creating a legacy with new works. She has performed many world premieres with music specifically written for her, including Robert Fokkens' violin concerto (premiered Southbank Centre, London); Graham Coatman's violin concerto, (premiered Swaledale Festival); Deborah Prichard's 'Wall of Water' violin concerto, inspired by the paintings of Maggi Hambling (premiered LSO St Luke's) and Deborah Pritchard's violin and harp concerto, also inspired by the paintings of Maggi Hambling (premiered Aldeburgh Festival) and Errollyn Wallen's Triple concerto, written for her group Kosmos (premiered Jersey Liberation Festival). She also made her directing debut in 2016 when she directed and performed with the London-Vienna Kammerorchester in Piazzolla/Deyatnikov 'Four Seasons of Buenos Aires' in Auditorio National, Madrid and has continued to direct ensembles since then including her own string orchestra – the 'Celoniatus Ensemble' named after her 1730 Italian violin. She has performed concertos and recitals in prestigious halls such as the Concertgebouw, Wigmore Hall, Budapest Marble Hall, Purcell Room, Auditorio Nationale Madrid, Manchester's Bridgewater Hall, Shanghai Oriental Arts Centre, Seoul International Concert Hall, and Kyiv Hall of Marble Columns. In 2015, she was honoured to to perform Janacek's The Fiddler's Child for the 80th birthday celebrations of conductor Diego Masson at Blackheath Concert Hall. A multi-faceted virtuoso, she is also fascinated by world music styles and composes and improvises in many different styles.
In addition to her busy solo career she is a lover of chamber music and is a founder member of Kosmos Ensemble, Karolos Ensemble and also performs with pianists Christopher Glynn, Danny Driver, Christina Lawrie and guitarists James Boyd and Morgan Szymanski.
Harriet graduated from the Royal Academy of Music with First Class honours, M.Mus and DipRAM. In 2015, she was awarded the Richard Carne Fellowship at Trinity Laban Conservatoire of Music. Also in 2015 she was made an Associate of the Royal Academy of Music (ARAM) for her contribution to music.