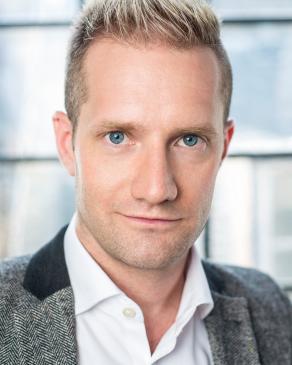 Charles MacDougall
Conductor
Charles MacDougall is a British tenor, choral animateur and vocal coach. His early experiences in musical theatre and church music were nurtured when Charles gained a choral scholarship to University College, Durham, and a place in the Royal School of Church Music's (RSCM) Millennium Youth Choir.  Graduating with a both a Bachelors and Masters degree in Classics, he went on to gain a PhD in Classics and Musicology from the University of London.
Charles was a founder-member of vocal ensemble VOCES8, singing with the group for over 7 years, performing over 100 concerts internationally every year.  With the group he released several successful commercial albums (including winning  2 CARA Awards) and made regular television and radio appearances (BBC, ClassicFM, MPR, DRK). He gave his final performance with them on Christmas Day 2012 in Shanghai.
Since then, his solo highlights have included: creating the role of Richard III in John Webb's The Last Plantagenet (Philharmonia Orchestra, De Montford Hall); Handel's Messiah (Telemann Chamber Orchestra, Hitomi Memorial Hall, Tokyo); Bach's Christmas Oratorio (Telemann Chamber Orchestra, Izumi Hall, Osaka); Evangelist in Bach's St. John's Passion (Dalby Kammarkör, Sweden); and Bach Early Cantatas (Les Inventions, Dijon Opera House).  He also maintains a busy schedule of solo recitals around the UK and – as part of the centenary commemoration of the Great War – between  2014-2018 he will perform annually at the Commonwealth War Graves in Belgium and France.
As an animateur, he works for the LSO, Aldeburgh Music, London Youth Choir, has been Chorus Master in projects with the Philharmonia Orchestra and works with Paul McCreesh as a Chorus Director for Gabrieli Roar.  He recently stepped down as Senior Vocal Coach at Portsmouth Cathedral, Whitgift School and Croydon Minster in order to be the Choral Specialist for The Voices Foundation and continues to coach for the Royal School of Church Music, the Royal Marines School of Music and many universities and schools, as well as regularly presenting at conferences on subjects such as chorister training, vocal technique, and performance.
He directs the Landmark Singers – a chamber choir – and Encore – a community choir – both in London, is the Assistant Musical Director of the DRET Choral Course in Uppingham, directs the Three Day Evensong Course for the RSCM at Rochester Cathedral, and conducts  numerous school singing festivals across the UK.
He has sung for London Early Opera (and appears on their recent release Handel at Vauxhall, Vol.1, Signum Classics),  Cappella Nova, and Schola Cantorum of Oxford, been involved in innovative collaborations with the James Taylor Quartet (Queen Elizabeth Hall), Charivari Agréable, and the Rose Ensemble (USA), and appeared as vocal coach/mentor on the BBC show 'Do Something Different: Barbed Wire to Barbershop'.
Charles is delighted to be Founder and Artistic Director of the Encore Summer School, which hosts a week of recitals, workshops and social events to South West London in July.
He continues his vocal studies with Veronica Veysey Campbell and Hilary Llystyn Jones.